Presented by Keith Gibson,
Region Director of Program Services, Alzheimer's Association

Approximately one person every 69 seconds is diagnosed with Alzheimer's and 1 in 3 seniors die with the disease. While there is no cure for the disease, there are resources to help. In this video, Keith Gibson from the Alzheimer's Association will discuss Alzheimer's Disease and Community Resources.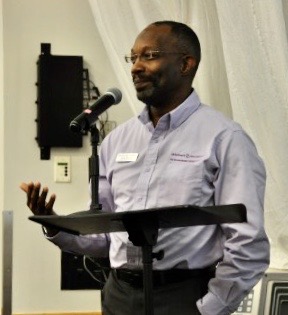 Mr. Keith E. Gibson is currently the Regional Director of Program Services for the Alzheimer's Association Southeast and Central/North Florida Chapters. As the Director of Program Services, Mr. Gibson is responsible for overseeing all aspects of service delivery and quality programming in a volunteer-powered organization. Mr. Gibson also has professional experience as a Certified Alzheimer's Educator/Trainer with the Department of Elder Affairs/University of South Florida, Registered Assisted Living Educator/Trainer, certified First Aid/CPR/AED instructor with the National Safety Council, a former State of Florida, Department of Elder Affairs Long Term Care District Ombudsman Manager (DOM), and a former State of Florida, Department of Elder Affairs Assisted Living Program Consultant.
 If anyone in your life becomes affected by dementia and Alzheimer's, Allegiance is here to help. We have a home health team of Alzheimer's disease trained professionals. Please call on us to bring compassionate care to your loved one. 
We have a team of nurses, therapists, and caregivers that are trained especially to help Alzheimer's patients with their unique needs and are available immediately throughout the 
Fort Lauderdale, Boca Raton, and Stuart areas.
Call us today for a Complimentary Home Assessment! 
(561) 367-0711