Home Health Care for CHF (Congestive Heart Failure)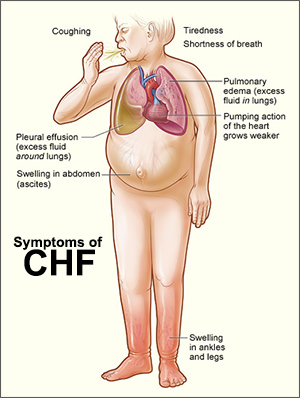 The human heart is merely a collective of muscles that pumps a river of blood through miles of pipes.  This pump runs 24 hours a day for upwards of 100 years. Sometimes, however, due to damage or disease these muscles become less effective at moving the fluids that keep our body working at peak efficiency.
Congestive Heart Failure (CHF) is a chronic condition where body fluids are not cycled through the bloodstream due to failure of the heart muscles. Home health care can frequently be used to monitor and manage the disease, with the goal of preventing or shortening hospital stays associated with symptoms.
Causes of Congestive Heart Failure
Congestive Heart Failure is the leading cause of hospitalizations for people 65 years of age and older.  Congestive Heart Failure occurs when the heart muscle is unable to pump blood effectively resulting in fluid build up or back up in other parts of body such as lungs and legs.  This buildup can be debilitating, and additionally, makes the already damaged heart work even harder.
Heart damage leading to CHF can be caused by several conditions. Congestive Heart Failure can occur as a result of having high blood pressure over a period of time.   The heart has to work harder as a result of the high blood pressure and over time it becomes weaker or heart wall becomes thicker and the heart is no longer able to pump blood efficiently.  Another cause of Congestive Heart failure is when the heart has been damaged as a result of heart attack.  Congestive Heart Failure can be also be caused by heart valve disorders.
Symptoms associated with Congestive Heart Failure:
Swelling in ankles, feet and legs.
Shortness of Breath
Frothy cough that produces white or pink tinged mucus.
Sudden unexplained weight gain
Fatigue, Weakness
Lack of appetite
Recognizing the subtle changes in your body and implementing appropriate interventions is the best way of managing this chronic disease and avoiding the frequent hospitalizations that occur with this disease.
The Allegiance Difference
Our Home Health team of skilled professionals will develop with you and your family a customized rehabilitation plan utilizing multiple disciplines.  Your rehabilitation team may include:
Skilled nurses
Physical Therapists
Occupational Therapists
Social Workers
Home Health Aides
Our skilled nursing staff will educate and instruct you on the disease processes, recognizing early symptoms, healthy food choices including limitation of sodium and fluids and also tips regarding medication management. They will provide you with strategies to manage the disease to prevent hospitalizations.
The Physical Therapist will strengthen your muscles to avoid falls and improve endurance throughout the day.  The Occupational therapists will evaluate and develop a plan that will teach energy conservation techniques, organize your daily activities, redesigning tasks and if need be even rearranging layout of your home. These therapists will increase your ability to maintain maximum independence in your home.
Our caring and trusted home health aides will assist you in achieving and maintaining your optimal health by coordinating, reminding, escorting and/or transporting you to your all medical appointments.  They will assist you with being compliant with your medications by providing medication reminders when you need to take medication.  They can provide help with daily activities such as bathing and dressing.  The Home Health Aide can develop and prepare heart healthy meals (including shopping for groceries) that comply with your prescribed dietary regimen.  Also Home Health Aide can assist with light housekeeping and light laundry.
Let us help.
Living with Congestive Heart Failure can be frustrating and stressful when dealing with hospitalizations and symptoms.  Knowing that you can manage your disease will allow you to simply enjoy life without worrying.  You are a unique and an important part of the process to maintain your health and independence. Ultimately, you and your family can adopt healthier habits and lifestyle changes that will dramatically improve your quality of life after CHF.
Our team of professionals will collaborate with you and your family to develop a customized care plan that will allow you to reach your maximum level of functioning.  We will teach you how to identify early signs and symptoms of an exacerbation (worsening of the disease) so you can get appropriate intervention to avoid hospitalizations. We will assist you in determining the best and appropriate level of support care to provide you in your home so that you can continue to continue to enjoy your life without worry.
Allegiance Home Health and Rehab wants to be your ally in health. Call us today.
Does Mom or Dad Need Homecare?
Get A Complimentary In-Home Assessment
Allegiance's Services