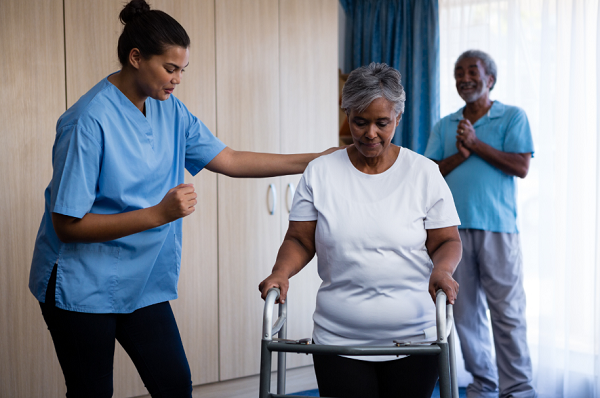 A certified nursing assistant (CNA) is trained and educated to help those with home healthcare needs under the supervision of a Registered Nurse. A CNA is required to pass an exam for certification that tests both their book knowledge and their practical skills. Upon passing the exam the CNA is qualified to deliver basic care under the guidance and supervision of an RN. CNA's are sometimes referred to as a nursing assistant (NA) or a patient care assistant (PCA). Their duties and responsibilities are very similar to a home health aide (HHA). 
The CNA acts as the eyes and ears of the RN in the client's home and relays pertinent health information back to their clinical supervisor. They tend to the hygiene needs of patients and fulfill quality of life needs such as assisting with activities of daily living (ADL). 
All of our CNA's have been put through our rigorous hiring process including Level II Background Check, reference checks, competency test and Tier-III interview. In addition Allegiance Home Health's aides are direct employees and not independent contractors. Every one of our CNA's/caregiver's are supervised by an RN case manager.

Allegiance Home Health's CNA's add to the well being of people at the time they need it most. Our goal is to keep a home running as normal as possible and allow those who are sick to stay at their South Florida home instead of moving to a nursing home.
Some of the other duties of a CNA:
– Helps client move around and assist them to be as physically active as possible
– Assists Registered Nurses in medication management such as reminders
– Checks patient's pulse and breathing rates
– Light house cleaning for safety and comfort
– Plans and prepares meals including special diets
– Provides emotional support for clients and family
– Helps clients stay mentally healthy and alert by having meaningful conversations with them
– Playing games such as crossword puzzles or cards with our clients ( if they enjoy it )
Let us provide a CNA to assist your family in helping your loved one remain at home. We can decrease your stress and give you more time to enjoy as a family member rather than a caregiver. With home health care offices in Boca Raton, Plantation and Stuart, Florida, we're as close as a phone call away!
Call us Today for a complimentary home assessment at (561) 367-0711. Allegiance Home Health serves all cities in Broward, Palm Beach, Martin, St. Lucie and Indian River Counties in Florida. Click here to see a list of all of the cities we provide home health care service to.
Does Mom or Dad Need Homecare?
Get A Complimentary In-Home Assessment
Allegiance's Services