Eating healthy on Thanksgiving Day is possible. In fact, it is easier than you think.
Cauliflower Mashed Potatoes are an easy and delicious low carb alternative to traditional mashed potatoes, but just as smooth and creamy.
Ingredients for Cauliflower Mashed Potatoes
Cauliflower: You can use whole, pre-cut or frozen florets.
Garlic: Whole cloves are added to water and then mashed with cauliflower for more flavor.
Butter: Ghee or coconut oil will work as well.
Salt and freshly ground pepper
How to Make Cauliflower Mashed Potatoes
Prep: Separate cauliflower into florets and cut in smaller chunks. In a medium pot, combine cauliflower, garlic and enough cold water to cover the vegetables.
Cook: Place lid on top and bring to a boil. Reduce heat to low and cook for about 10 minutes or until cauliflower is fork tender. Drain and do not discard garlic.
Season: Add butter or extra virgin olive oil, salt and ground black pepper to taste. Garlic stays too.
Blend: Using an immersion blender or in a food processor, process until very smooth or desired consistency. Garlic is blended as well. Adjust salt and pepper to taste, if necessary.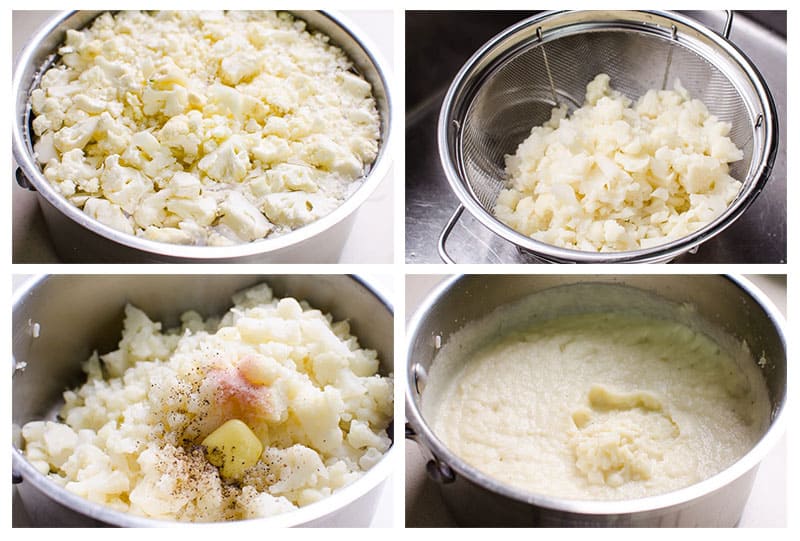 Tips and FAQs
How to make cauliflower mash thicker? You have to remove extra water. Place drained cooked cauliflower florets in a towel lined bowl and let cool down until safe to handle. Then hold onto the ends, make a ball and twist to squeeze out extra moisture. The trick is not to touch super-hot blob with hands – use tongs.
Using frozen cauliflower: Add cauliflower to a boiling water. It will take a few more minutes to come to a boil rather than fresh cauliflower. That is the only difference.
How many calories? One serving or 1/4th of the recipe contains only 99 calories. Where regular mashed potatoes run at 237 calories. And only 14 grams of carbs vs. 35 grams.
Cooking garlic: Cooking garlic makes it less spicy. Once mashed with cauliflower it adds nice flavor.
Can I add cream cheese or sour cream: Sure, add to taste.
No blender? Regular potato masher will make more rustic with chunky texture "potatoes". But it works if you don't have a blender or food processor. I also think a hand mixer or standing Kitchen aid mixer will work.
How to Store and Reheat
Serving: Cauliflower mashed potatoes taste best fresh and consumed same day. Next day, there is a very prominent cabbage smell.
Reheating? I do not suggest reheating it next day. I recommend making only what you will eat same day. You can cut the recipe in half.
Freezing? I also do not suggest freezing it. I tried and I did not like the results.
Are Cauliflower Mashed Potatoes Healthy?
Both cauliflower and potato are vegetables. And we all know most of us need to eat more vegetables. Unlike many people think potatoes are good for you. Homemade cooked potatoes. Not fast food chain fries.
There is also another side. Too much of anything is not good. Even kale or quinoa. So, everything in moderation.
Click this link for a video on how to make Cauliflower Mashed Potatoes.
https://ifoodreal.com/cauliflower-mashed-potatoes/?jwsource=cl
To learn more about this recipe and for more healthy alternatives, please visit
https://ifoodreal.com/cauliflower-mashed-potatoes/
Recipe by Olena Osipov, iFOODreal
Allegiance Home Health offers private caregivers who can assist with meal preparation and healthy living.
Our CNAs and HHAs are trained and will meet the specific needs of each patient.
Call Us Today at
561-367-0711
for a Complimentary On-site Consultation with the Patient and their Family!